Cast your eyes on wands worthy of Ollivanders, including the most famous, owned by iconic characters such as; Harry, Hermione, Ron, Dumbledore and Voldemort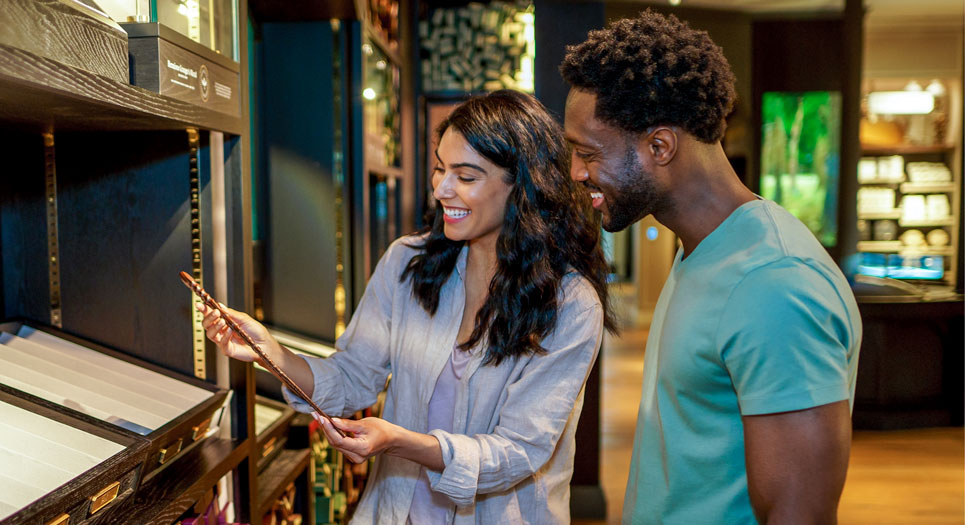 The wand chooses the wizard. Which is calling to you? Find out inside Harry Potter New York's Wand Shop, a unique area of the store housing over 50 wands.
Inspired by magical surrounding of Ollivanders, the store's wand shop is home to huge selection of wands inspired by characters, locations, and props from the Wizarding World, including the Golden Snitch wand, exclusive to Harry Potter New York.
Between the shelves piled high with wand boxes, you'll find a series of digital windows that reveal a magical forest beyond that will change throughout the day and reflect the seasons. Keep an eye out for your favorite character's Patronuses moving through the trees.  Eagle-eyed fans will spot Dumbledore's Phoenix Patronus in a never-before-seen Harry Potter New York exclusive experience.
Don't miss the interactive wand table, with a blue glow reminiscent of a Pensieve, you're invited to pick a wand and put it to the test. Hold each wand to learn more about its history as magic appears to fall out of the tip of the wand revealing a piece of wand lore. You can even enter a wand duel with other fans!